RcopiaMU Certified Modular EHR
What is RcopiaMU?
RcopiaMU is a low-cost ONC-ATCB certified e-prescribing software designed for use by practices who are still in the process of evaluating certified EHR vendors, or who prefer to maintain their paper charts while still qualifying for incentives. RcopiaMU allows you to transition your practice at your own pace.
Achieve Medicare and Medicaid Meaningful Use Incentives with RcopiaMU℠
RcopiaMU is an affordable, certified and efficient modular EHR option that helps providers achieve Meaningful Use while delivering the benefits of e-prescribing.
Are you a physician who…
Wants to get a up to a 450% Return on Investment (ROI) from their Medicare or Medicaid Incentives?
Wants to start with basic technology while still meeting the requirements?
Isnít ready to make the commitment to an electronic health record (EHR) or EMR system?
Wants to take advantage of the incentives, but is planning to retire or close your practice in the next few years?
Does not have time or resources to change your practice workflow?
If you answered yes to any of the above questions, then RcopiaMU might be the right solution for your practice.
Benefits of RcopiaMU
Qualifies a user for Meaningful Use and Physician Quality Reporting System (PQRS)
Intuitive system requires minimal staff training, reduced transitional downtime for your practice
System is web-based, so implementation is extremely fast, allowing practices to quickly meet tight MU deadlines
Manage patient population with a few clicks versus a manual process of searching through patient charts.
Practice can generate additional "found revenue" by sending reminder letters for specific care items such as flu shots, and annual check-up reminders which allows your practice to fill holes in your schedule with revenue generating appointments
Providers can engage in patient outreach to improve patient care and connection
Get incentive money before investing in a long term certified EHR or EMR system
DrFirst also offers AttestEasy℠ consulting which follows a practice from start to finish during their MU reporting period to allow for an easier, and hassle free process of achieving Meaningful Use compliance
DrFirst's affordable, efficient, and simple RcopiaMU and AttestEasy combination is a proven approach to fulfilling Meaningful Use regulations and getting your incentive money. Read our gratified customer testimonials.
Contact DrFirst today by filling out the form above and to the right for a no-cost, no-obligation consultation and let us answer your questions about Meaningful Use.
Modular EHR To The Rescue!
DrFirst helped Dr. Janice Postal take the "Monster" out of Meaningful Use and Medicare incentives with RcopiaMU, the ONC-ATCB certified modular EHR solution.
Why Upgrade to RcopiaMU?
With RcopiaMU, you'll receive several major benefits for your practice:
Satisfy government-mandated Meaningful Use Requirements
Satisfy Meaningful Use requirements for Stage 1 and Stage 2 and receive Medicare or Medicaid incentive money
Avoid penalties in the coming years
Receive incentive money before investing in a long term certified EHR or EMR vendor
Utilize AttestEasy, DrFirst's concierge service to assist you along the way to ensure that you meet all the measurements needed for successful attestation
Provide better quality of care and safety
Minimize workflow to increase practice efficiency
Enjoy customer-friendly training to get your practice up and running fast
Transition your practice to paperless at your own pace
Rest Easy With AttestEasy!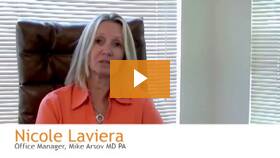 AttestEasy is DrFirst's concierge service that helps practices successfully attest for Meaningful Use incentives. Find out how Nicole Laviera benefited from AttestEasy.
Education
Meaningful Use Eligibility
Meaningful Use Incentives
Meaningful Use Deadlines
Downloads
RcopiaMU Certification Details
Case Studies